Welcome to the Twilight Zone. While we're all stuck inside for the next month-plus, we might as well have some fun. So, in addition to attempting to preview the now open-free agency for Season 6 of the NWHL for our very own Boston Pride, I'm going to take a stab at discussing some players to watch for for the other 4 NWHL franchises. As a reminder, all contracts are one season in length, and it is the player's decision whether or not to make their salary public. In order to be considered for a contract, players need to register on the league's website, the page for which can be found here.
Free Agency opened for the 2020-2021 season on March 27th, and the Metropolitan Riveters acted quickly, re-upping rookie sensation Kendall Cornine almost immediately. A New Jersey native and the 6th Overall Selection in the 2018 NWHL Draft, Cornine exploded in her freshman campaign, scoring 13 goals and adding 11 assists for 24 points in 24 games. She was joined days later by fan favorite and veteran Rebecca "Moose" Morse, who returns for her 5th professional season after putting up a career high 4 goals and 7 assists on route to an All-Star selection this year.
I get those two out of the way for one simple reason – I am not going to speculate on who may or may not return to each roster. There is likely to be some turnover, but it is too soon to make a call on many of the players who have yet to re-sign. Likewise, I'm not very tuned in to the European circuit OR USports up in Canada, so, I will only be discussing graduating seniors from the NCAA DI and DIII schools. This is not a particularly strong goaltending class, so expect some funky options to be presented for in between the pipes. I assisted Kacey F (@theworstkaceof on Twitter) in building a massive spreadsheet of the eligible players. They did much of the legwork on this, so please give them a shout out and a follow for the great work!
On to business.
Boston
What Kacey thinks they need: Potentially a 3rd goaltender in case Selander has Swedish national team obligations or she or Hanson gets injured; Star power
What I'm thinking: Full support for a 3rd goaltender. Hanson is good, but the concern is real when it comes to having a legitimate 3rd option if Selander misses any length of time. The Swedes were relegated from the last World Championships, so Selander's Tre Kronor timeline is going to be a bit different than other potential international tournaments, but it is still something the Pride should be actively planning for. Not sure on the star power aspect, but this really depends on who returns to the team and who doesn't. Maybe it's a cop-out for me to take that approach, but the team is so ludicrously deep that it is impossible to say where they would look to upgrade right now.
Player(s) to Watch:
G Caty Flagg, UMass Boston – Flagg spent two years at UMass Boston, two years at the University of New England, had one of the most difficult workloads in all four years, and still had a GAA under 2 and career save percentage of .938. Division III players have had plenty of success in the NWHL, and the Methuen, MA product fits the geographic profile of a potential Pride player and has the statistical profile that should have GM Karilyn Pilch intrigued. Oh, and it doesn't hurt that she was voted NEHC Goaltender of the Year to close her career out. For the second time.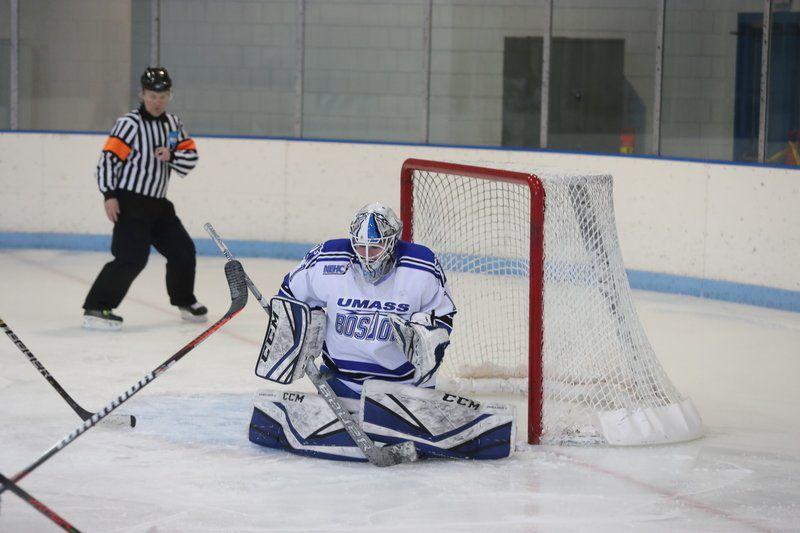 F Meghara McManus, UNH – McManus quietly has been UNH's most impactful goal scorer in her 4-year career. Despite never putting up the gaudy numbers teammate Taylor Wenczkowski did, McManus scored double digit goals in her final 3 seasons, and never had her shooting percentage dip below 10% during that time. She accomplishes that by scoring the majority of her goals from high danger areas, and is unafraid to be the netfront presence despite not being the biggest player. What makes her especially intriguing, aside from the goal scoring, is that she offers a diverse array of talents away from the puck that make her valuable to her team. She is a pain to play against, drawing more than a 3rd of UNH's penalties drawn her senior season. In fact, she's a +45 in penalty differential in her final two collegiate seasons, drawing a ridiculous 65 penalties while only taking 20 herself. She finished with 123 career blocks – mostly as a result of her borderline-reckless use of her body to dive in front of pucks. That makes her an effective penalty killer as well. She can use her speed to beat an opponent to a loose puck, and has a relatively high pain threshold given the number of absurd shot blocks she has racked up. She also has some built in chemistry if the Pride bring back Carlee Toews – the two played on a line together for several stretches at UNH during the two years they were teammates. This is exactly the sort of character player the Pride want to fill their lockerroom with – someone willing to sacrifice everything for the team, and someone who can be effective in a smaller role.
F Sammy Davis, Boston University – Davis had some injury trouble during her career at BU, but nobody is doubting the talent. It is very difficult to put up nearly a point-per-game pace throughout an entire collegiate career. Her leadership abilities, natural scoring talent, and elite pedigree make her a natural complement to the former Terriers currently on the Pride roster. It also helps that their GM was the BU Director of Hockey Operations prior to joining the professional ranks, so I'd wager there is already a personal connection there.
Buffalo
What Kacey thinks they need: Stay at home defenders, a powerplay specialist, and depth scoring to take some of the pressure off of Accursi, Lewicki, and Sheriff.
What I'm thinking: Going to co-sign on the depth scoring piece – this team was very top-heavy this year, and it lead to a lot of the inconsistencies that plagued them as the season went on. If the Accursi line was getting stifled, there wasn't much else they could generate consistently. Adding Mikyla Grant-Mentis at the end of the season was a big step towards that, but they can't stop there. They need someone who can be a trigger on the 2nd powerplay unit, and someone with some speed to help facilitate on at least their 2nd line. On the back end, I am almost certain that rookie superstar MJ Pelletier will come back, and I'd feel relatively confident in saying Lenka Curmova and Ana Orzechowski can return in similar capacities. However, they definitely need someone who can help in transition, because right now MJP is their primary zone exit source, and she can't do it herself all night, every night. A 2nd powerplay quarterback isn't AS necessary, because I think you can structure the 2nd unit around Curmova's shooting prowess from the back end and be OK.
Players to Watch:
D Whitney Dove, Providence – Dove is a smooth-skating rearguard that would be an excellent complement to MJP on the back end. She's got a great shot, leadership acumen, and is good enough positionally to make up for her relative lack of physicality. I'd wager she's a poor-woman's version of the Mighty Mouse, with a little less defensive acumen. I think her personality would mesh well in the Buffalo locker room.
D Tori Howran, UNH – Who better to give MJP than her former defensive partner with the Wildcats? Howran brings some size to the blueline, but pairs it with a rocket of a shot and excellent skating skills. She complements Pelletier's skillset incredibly well, and she rarely gets tired. She's excellent on the PK, she can operate effectively on the powerplay, and she routinely comes up big in critical moments. It's too good of a fit NOT to happen.
F Amanda Conway, Norwich – Conway does one thing very, very well: score. The Methuen, Mass native tallied 116 goals and 72 assists for 188 points in 111 career games for the Division III powerhouse Cadets, including leading them to a National Championship her sophomore season. It's kind of difficult to ignore someone who scored at over a goal-per-game pace in their career, regardless of the Division III bias.
Connecticut
What Kacey thinks they need: Puck-moving defenders, depth scoring, powerplay specialists.
What I'm thinking: Honestly? A little of everything. No team improved more from day one to the end of the season than the 2-win Whale. Veterans Kaycie Anderson and Shannon Doyle are likely to return, All-Stars Emma Vlasic and Grace Klienbach were tremendous additions, and Kayla Meneghin was very good, putting up 8 points in only 14 games. But they need some dynamic talent to add to a roster that should be competitive for the entirety of the season, as Head Coach Colton Orr has indicated his intention to return behind the bench for his second consecutive season.
Players to Watch:
F Jillian Gibbs, Endicott College – The Whale have had unprecedented success with Division III players as compared to the rest of the league. Anderson was a 4 year standout at Norwich, and Meneghin was a part of the SUNY Plattsburgh dynasty for all four years of her collegiate career. Gibbs is an interesting one. The Burlington, Vermont native finished her career with exactly 109 points in 109 games. She is the program leader in career goals, points, games played, shots, game winning goals, and powerplay goals for the Gulls. Yes, this was only their fifth year of existence, but only one person is anywhere near her in career points, and that's linemate Jade Meier, a fellow senior (more on her later). She has a 20 goal lead on anyone else in the program, and nobody is on pace to even come close. She possesses a wicked release, and a connection to the Whale – Endicott assistant coach is none other than Whale forward (and fellow DIII alum) Jane Morrissette.
F Taylor Wenczkowski, UNH – Wenczkowski is a bit of an enigma. She might be one of the best pure talent players in this year's senior class, but has been plagued by inconsistency issues in her career. Coming off a 20-goal junior campaign, she was invited to the US National Team Camp over the summer, was impressive there, then…struggled when she returned to Durham. The New Hampshire native was forced to take on a different role this season, and became much more of a facilitator than a goal scorer. She has a gnarly injury history, as she lost much of her sophomore year to an assortment of issues, resulting in a medical redshirt, but she still has a wicked release, smooth hands, and the drive to play at the next level. She will need someone to get her the puck, but once it's on her stick, watch out.
D Abby Cook, Boston University – Yes, the Pride DO have the BU connection, but I think Cook is much better utilized in a situation where she can be a feature of the offense on the blueline, rather than a complementary piece. A Hockey East All-Star 3 out of her 4 seasons, Cook finished her career two points shy of 100, and still had more than 200 career shot blocks. She also finished with a career 7.80% shooting percentage, which is well above expectation for a defender. Much of that is due to her wicked one-timer. BU structured it's powerplay around it and found unprecedented success as a result. Cook brings a little size, plenty of mobility, and plenty of offense off the rush, something Connecticut desperately needs.
Metropolitan Riveters
What Kacey thinks they need: Stay at home defenders with consistent availability, special teams assistance, and a goaltender who can help light Sam Walther's load.
What I'm thinking: The Rivs are already off to a good start to free agency. Cornine was an excellent addition in her rookie year, and Morse offers a lot in terms of experience and flexibility. I think it's safe to assume captain Madison Packer will be back in the fall, and Cailey Hutchinson was also quite impressive. I REALLY hope that their European import players, Kazakhstani Bulbul Kartanbay and Russian sensation Tatyana Shatalova both return as well, because both began finding their grooves as the season progressed. Kartanbay's been a great story as the first Kazakhstani player to attempt a North American career, and Shatalova is the youngest player in the league by far – league administration actually waived the age minimum in order for her to sign this season, and she had some flashes of pure brilliance. I hope she doesn't return to Russia, simply because she's one of the most entertaining players to watch in the league. Kacey hit the nail on the head though, the Riveters suffered from a lack of consistent availability this season, especially on the back end. They can't rely on Morse, Kiira Dosdall-Arena, and Leila Kilduff to play as much as they did, and they did not have a consistent special teams season whatsoever. Look for them to beef up their depth and try and take some of the load off of Morse on the powerplay as well.
Players to Watch:
D Kelly O'Sullivan, Adrian College – O'Sullivan produced at nearly a point-per-game pace at Division III Adrian, tallying 114 points in 119 games. She actually produced at above a point-per-game pace in her first two seasons. She's not the biggest, but she has the production and consistency to make her rather intriguing for Ivo Mocek and company.
F Jade Meier, Endicott College – Yes, I know, two DIII players from the same team will seem like a bit of a bias, but Meier actually had the better season this year than Gibbs. The Fairbanks, Alaska native just missed 100 career points (she would've hit it if not for the COVID-19 pandemic), but was selected to the DIII All-American 2nd Team this season, and is much more of a distributor than her linemate. She is also a tremendous 200 foot player, and I think she would fit in well with Packer's fiery spirit. Rumor has it that she actually has a job lined up in New Jersey, so this is really the best fit for her to continue her playing career should she so choose.
G Stephanie Neatby, Princeton – Neatby is really the most logical choice to supplement Walther – she has a track record of success, a level of consistency, and she graduates from right in the Riveters' backyard. As I stated before, the goaltenders in this year's senior class are few and far between, and most of the high-end ones hail from Minnesota, meaning I doubt they have plans to move halfway across the country this year. Neatby just sort of makes sense.
Minnesota
What Kacey thinks they need: Another goalie to lighten Leveille's load, additional depth in case of retirements.
What I'm thinking: The Whitecaps are another team that are ludicrously deep, but I agree that finding Amanda Leveille a reliable backup is extremely important. League Co-MVP Allie Thunstrom is likely to return, and there is so much talent across this lineup that it's hard to really find a spot that needs some attention. However, the Whitecaps are in the unique spot where they have a sort of geographical advantage over the Founding Four teams for the graduating WCHA seniors.
Players to Watch:
G Kristen Campbell, Wisconsin – Apart from US Olympian Maddie Rooney (who I'm excluding from this exercise based on the assumption that she'll follow her National Team teammates to the PWHPA), Campbell is the cream of the crop for goaltenders. She played in 110 games in her career at Wisconsin. She won 90 of them. And finished with a 1.31 GAA and a .931 save percentage. I know Wisconsin is routinely stacked, but those are difficult numbers to ignore.
F Bre Simon, Hamline – I'm sure you're getting sick of my DIII players, but the in the women's game, the difference between a player at the DIII level and the DI level can sometimes be a desire to attend a smaller school. The talent differential just simply isn't as pronounced as the men's side is. What Simon did at Hamline is borderline criminal – 92 goals and 94 assists for 186 points in 113 games is special, but only 16 of those goals came on the powerplay. That suggests an elite even-strength contribution that would be welcome in almost ANY lineup.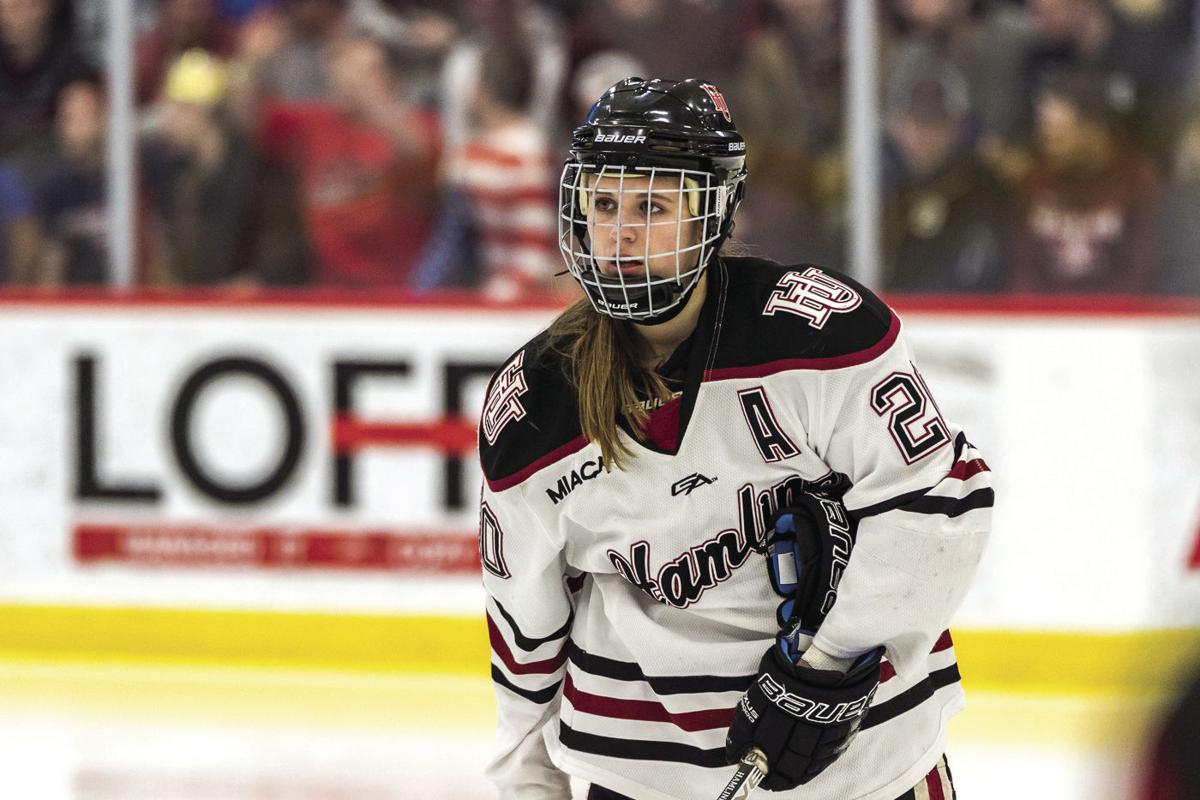 D Jincy Dunne, Ohio State – Dunne singlehandedly brought the Buckeyes their first WCHA title by scoring the overtime game winner in both the semifinals and the championship game. She buried 99 points in 147 games, she's big, strong, powerful, and skilled, and has a big fan in Allison Lukan of The Athletic, whose talent evaluation I trust. The hope is that Dunne wants to play professionally rather than go to the PWHPA, and out of every player I've noted in this piece, she has the greatest likelihood of doing so.
I'm sure that there's plenty more qualified people to present this information than myself, but I needed something to do to keep myself sane. Please be sure to stay tuned throughout NWHL Free Agency, and we at Pride Diehards cannot WAIT to see the Season 5 Isobel Cup come to Boston whenever we can leave our homes again!
By: Spencer Fascetta  |  Find me on Twitter @PuckNerdHockey